SPEAKERS
(solicited, contributed, interdisciplinary)
Important: Please note that all sessions, including discussions and the interaction between the speaker and the audience, will be recorded. By giving a presentation or participating in a discussion during a session, the participant declares their consent to being recorded. The camera in each session will not turn to the audience but will be fixed on the projected presentations and may, or may not, include the podium with the speaker and / or session Chair.

In-person speakers:
Each session Area will be equipped with a PC, a projector and adequate sound reproduction facilities.
A 16:9 widescreen aspect ratio for presentation slides is recommended for optimal viewing.
As in all previous in-person COSPAR Scientific Assemblies, a Speaker Ready Area will be in operation, where participants will be able to upload and / or edit their presentation files, not later than 24 hours prior to the presentation time. In addition to the conventional uploading of each presentation by means of a USB stick at the Speaker Ready Area, we plan to accommodate online submission of presentations on the meeting platform.  Advance, remote uploading is recommended for all presentations in this case, especially for participants arriving less than 24 hours before their presentation. Instructions will be posted in due time. In either case, it is the presenter's responsibility to make sure that their presentation is in place and will appear as it should, by visiting the Speaker Ready Area.
The Speaker Ready Area will be located at the Megaron Athens International Conference Center (main venue). 
We can accommodate PowerPoint (PPTX) and Portable Document Format (PDF) presentation files for viewing, with or without multimedia. The entire presentation should be accessible from a single file.
We can also accommodate MacOS Keynote presentations but will not be able to use such files for viewing. These presentations will be converted to PPTX or PDF formats, with the quality and fidelity of the conversion being the absolute responsibility of the presenter. After conversion, the presenter will be able to edit the presentation file as needed at the Speaker Ready Area.
We cannot accommodate OpenOffice presentations from any operational system (Windows, MacOS or Linux / Unix). We strongly advise exporting such presentations to PDF files and submitting these files to the Speaker Ready Area.
The preferred operating system for preparing a PPTX presentation is Windows 10 or Windows 11. A PPTX presentation compiled in MacOS or iOS or any operational system using OpenOffice may require additional tweaking when presented from a PC, that can take from little to significant time. This additional editing will be handled in the Speaker Ready Area.
A PDF presentation file can be prepared in any operational system environment.
Virtual speakers:
Each virtual participant will upload a single multimedia file with their pre-recorded presentation to the meeting platform. Details for uploading pre-recorded presentations will be made available in due time.
The preferred format of pre-recorded presentations is MPEG-4 (or MP4).
There are various ways to create a recording and convert it into a MP4 file. A popular one is by using Zoom:
Besides Zoom, one can use for the same purpose commercial or open-access software such as WebEx, Skype, Google Meet, GoToMeeting, MacOS QuickTime, Microsoft Teams, Prezi, Screencast, Open Broadcaster Software (OBS), etc.
The use and handling of the software chosen is the responsibility of the presenter.
The resulting MP4 file should have a bit rate < 1 Mbps for optimal playback and must fulfill the following conditions:
-        Size: 500 MB or less
-        Duration: please consult the Information on COSPAR 2022 Abstract Submission and Event Organization for details, but the total duration of the video file must not exceed:
15 minutes, for contributed talks,
20 minutes for solicited talks,
30 minutes for solicited review talks.
Important: Please note that we will not be able to accommodate presentations with duration exceeding the one foreseen for the type of the presentation. Such presentations may have to be cut short when their time allocation expires or they may not be included in the program, at the presenter's responsibility.
Due to the large number of parallel sessions, virtual presenters will not have real-time video access and interaction with their session. Session recordings, including both virtual and live presentations, will be made available on demand to all participants 36 hours after the end of each congress day 
Please note that it won't be possible to Chair a session virtually.
Poster Presenters:
Poster dimensions (for onsite presenters / physical posters):
A0 (84.1cm width x 118.9 cm height)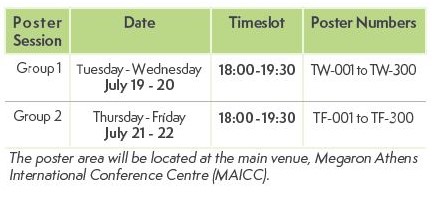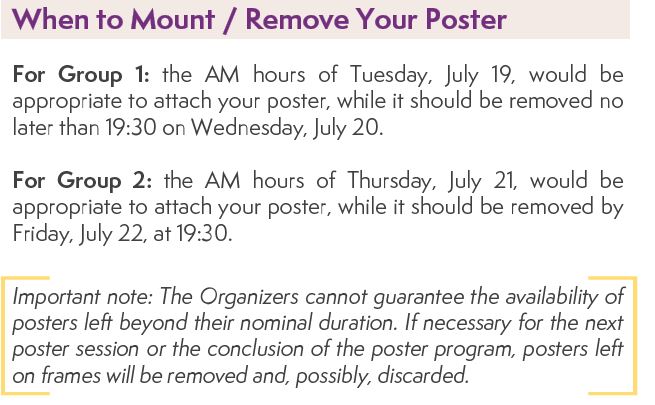 Detailed instructions for Poster Presenters are available HERE